You would think that Elsevier makes so much money from selling reference works like the Encyclopedia of Language and Linguistics (2006, print: 3949€, 9000 pages) that they could pay a typesetter. No! What they did is obvious when you look at the formatting of the figures and formulae. They just did a screenshot (of a manuscript perfectly typeset in LaTeX).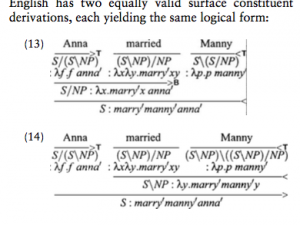 As you can see the derivation in (13) has a little vertical line at the right edge. An artefact due to inserting screenshots. So the claim that publishers like Elsevier do high quality typesetting for us is a myth going back to the good old times. It is not reality.
And the fact that the little line is still there somehow is evidence that the inhouse proofreading did not work either.
This is the paper, just in case you want to check. It is $30 for 12 pages = $2,50 per page.